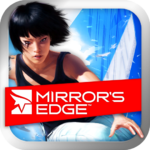 Mirror's Edge (mobile) is a side-scrolling platformer action-adventure application developed by IronMonkey Studios for the iOS. The game was officially released on September 2, 2009 for the iPod and iPhone and April 1, 2010 for the iPad. It was ported to Windows Phone, released on July 13, 2012. The game was not released on Android.
The game was officially announced for a January 2010 release, but the iPad release was pushed back to an April release. It stays true to the tradition that has made Mirror's Edge a fan favorite around the world, keeping the gameplay and setting as the original, only it is seen from a third-person perspective with 3D graphics. The controls are utilized with the accelerometer to maintain speed while sliding down a surface or on a zipline and the touch screen to jump, slide, roll, climb, vault and disarm.
Senator Elaine Callaghan starts to employ the Pirandello Kruger security firm to train a gang of rogue Runners to make a bad image of and smear the true Runners to gain more votes against mayoral candidate Senator Robert Pope who supports the morale of the Runners.
Jules De Jongh - Faith Connors (The game re-uses voice clips of Faith breathing and moaning from the original Mirror's Edge game.)
Community content is available under
CC-BY-SA
unless otherwise noted.